By CNN's Deena Zaru [twitter-follow screen_name='DeenaZeinaCNN']
When a soldier's time on the front lines of combat is over, veterans like Marine Captain Jason Haag, face a lingering and painful internal battle defined by the trauma of war.
"When you come home you are haunted by flashbacks of having your friends killed, killing other people and probably the biggest thing for me is the paranoia of living step by step, second by second, never knowing when your last moment might be," Haag says.
Haag served in the Marines for 14 years, completing two combat tours to Iraq and one to Afghanistan. He was shot in 2003 and suffered a traumatic brain injury but the wound that has left a deep and defining mark is a severe case of Post-Traumatic Stress (PTS).
After each deployment Haag's PTS intensified and on each trip home he became more depressed and isolated.
His family threw him a party when he returned from Afghanistan. After everyone left, he was left alone to face his demons. For the next two years he lived in his basement and went to bed with a gun underneath his pillow.
"There's always that sense of elation that comes with going home but then it goes away and you are left alone with your thoughts.  You realize that you don't have your Marines watching your back and you're still having nightmares and you think to yourself 'Holy crap! Where's my gun?'" says Haag.
He suffered from persistent insomnia and became dependent on pain killers and alcohol in order to self-medicate. His PTS and substance abuse led to violent outbursts of anger.
"I was frightened of the outside world. I was somebody that led one hundred marines into combat three different times but I couldn't go to 7-11 to buy a pack of gum," says Haag.
Due to the stigma associated with PTS, Captain Haag says it took over ten years to ask for help. When he finally went to the Veterans Affairs active duty mental health clinic he was turned away.
"I was a grown man- a captain in the U.S. Marine Corps, I was crying in full breakdown mode and they told me to come back later," says Haag." They don't know how to deal with it quite honestly. There's obviously a systematic failure somewhere that needs to be fixed."
Once diagnosed, he was prescribed several pills and at one point, he was taking, abusing and snorting up to 32 different medications and narcotics. His heavy drinking continued and he became more and more isolated.
"I was fighting with my family and destroying my marriage. My wife came to me and told me that she's been through all of this but that I have one more shot. She told me you've got to do better or I will have to take the kids and leave," says Haag.
Following the advice of a neighbor and holding out hope that he will find a way to save himself, Haag did some research and requested a service dog.
Haag says that while "Medications are a great way to stabilize someone, to get them to a point where they can find an alternate therapy," they are often used as band aids to a deep and destructive emotional problem.
"The alternate therapy that saved my life is my service dog Axel," says Haag.
In September of 2012, Haag got help from K9's for Warriors, who rescue dogs and train them to provide relief for veterans suffering from PTS.  Axel was a week away from being put down in a shelter and by taking him in, Haag saved his life.
Axel gave Haag the companionship and security his fellow Marines had provided him and made it possible for him to tone down his hyper vigilance and assimilate into the world.
About three months after getting Axel, Haag took a leap and went on a trip with his new companion to Colorado.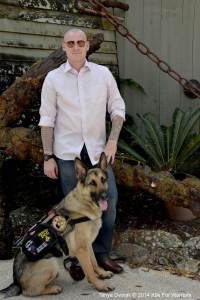 "Axel and I we were sitting in the hotel room and he looked over at me and I looked over at him and we knew that we did it. We traveled 2000 miles together" says Haag. When he got home he went to his son's baseball game for the first time in three years.
With the help of Axel, Haag has been narcotic free for almost a year.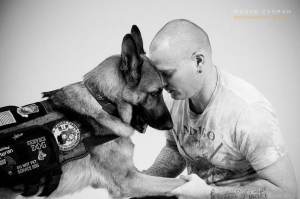 "Axel hit the reset button for me and gave me a reason to get up in the morning. I'm dependent on him and he's dependent on me," says Haag. "Axel immediately changed my family dynamic. I got to see smiles on my children's faces again. He not only saved my life but he also saved my family and you can't put a price on that."
*Captain Jason Haag now serves on the Board of Directors of K9's for Warriors
*Photos provided by Jason Haag
Programming note: CNN's Candy Crowley talks to Senator Walsh and Tom Tarantino about what else can be done to help. The interview will air on CNN's State of the Union – Sunday, April 20th at 9am & 12pm ET.
Plus, explore more about "The Uncounted" on military spouses, siblings and parents struggling with suicide as loved ones are deployed to war. www.cnn.com/uncounted