By CNN's Deena Zaru [twitter-follow screen_name='DeenaZeinaCNN']
When one thinks of politicians, one does not necessarily think fashion, largely because most politicians have a streamlined and often uniform look that is appropriate for Capitol Hill—women in blazers and pencil skirts and men in suits and ties. However, if you take a closer look, not only will you find politicians who bend the rules but you will also find that dressing like a politician requires a very disciplined, calculated and detailed approach to fashion.  After spending some time on the Hill, I have learned the very specific fashion culture that is fostered by the country's top lawmakers.
1) A bit of sparkle goes a long way
Important events like the upcoming State of the Union address present the President, the First Lady and lawmakers with an opportunity to dress with a hint of glamour and a bit more fun. In 2013, the President stuck to a traditional dark blue tie, while Vice President Joe Biden and Speaker of the House John Boehner decided to have more fun. Biden wore a bright purple tie and Boehner wore an equally bright orange tie and blue shirt.  Michelle Obama famously wore a glittery two-tone maroon dress by Jason Wu, who has been under the fashion spotlight since 2009, when the First Lady wore his iconic white, one-shoulder chiffon gown at the Presidential Inaugural ball. In 2012, former Secretary of State Hillary Clinton famously wore a thin black headband—a trend straight off the Hollywood red carpet, while Mrs. Obama turned heads in a sapphire Barbara Tfank dress, which she paired with an Alexis Bittar brooch for a little bit of sparkle.
2) No ponytails
If Hillary Clinton can't pull it off, then neither can you. The former Secretary of State got some flak for her ponytail phase and has since kept her hair down. Even Speaker John Boehner doesn't allow his staffers to wear their hair in a ponytail in his office. This does make it difficult when going through a bad hair day or a flat hair day. Some in Washington utilize fancy hats for an element of drama like Rep. Frederica Wilson, D-Florida, who is known for a wacky variety of cowboy hats. While most women on the Hill keep their hair short, Rep. Marsha Blackburn, R-Tennessee, has maintained a longer hairstyle over the years. Being one of the most fashionable women on the Hill, the congresswoman has a great cut, which is key to keeping your hair down while maintaining a polished look. The Congresswoman's hairstyle is classic, modern and glamorous and she reminds us that you don't have to chop off your locks to fit in on the Hill.
3) Red is the new black
Yes, after all these years of rumors, it turns out that red really is the new black. You don't need to wear black to look official. As a politician, a commanding color can get you noticed and get people to listen to you. However, in the conservative DC political arena, a red pantsuit or blazer is best paired with conservative accents: a black or nude camisole, pearls, classic stilettos and a black leather handbag. Essentially there is nothing wrong with wild colors as long as the item itself isn't wild. A love for leopard print and red cannot be combined. Thanks to House Minority Leader Nancy Pelosi for this lesson.
4) In politics, there is still room for hot pink
As it turns out, you are never too grown up for hot pink. If Speaker Boehner and Hillary Clinton, can wear hot pink, then so can you. In controlled doses, of course. Hot pink also should ideally not be mixed with any animal print.
5) There is always room for creativity, however small
While women can choose between, skirts, pants or dresses, men on the Hill are pretty much forced into the suit and tie uniform. But if there's one thing that I learned from Rep. Earl Blumenauer, D-Oregon, it's that incorporating your uniqueness into your wardrobe and utilizing what little room for creativity you have can go a long way. In contrast to almost every single American politician, Rep. Blumenauer substitutes the traditional flag pin with a bigger and brighter bicycle pin, expressing his love for biking. He also substitutes the trusty tie in a double Windsor knot with a funky bow-tie.
6) Fool them: If it's on a blazer it's okay
If you maintain an element of conservatism, then you can pretty much wear whatever you want. Rep. Rosa DeLauro, D-Connecticut, who is popularly hailed as the hipster on the Hill, is known for her funky glasses, edgy short haircut, patterned blazers and colorful scarves. It may seem that the Congresswoman is breaking all the rules, but she is sticking by one important one—always maintain an element of conservatism. She resorts to colorful blazers, busy patterns and even red streaks in her hair, but maintains an element of conservatism. There is room for a flowery blazer or a multi-colored striped scarf but there isn't room for a short skirt, a T-shirt or a pair of jeans on the Hill.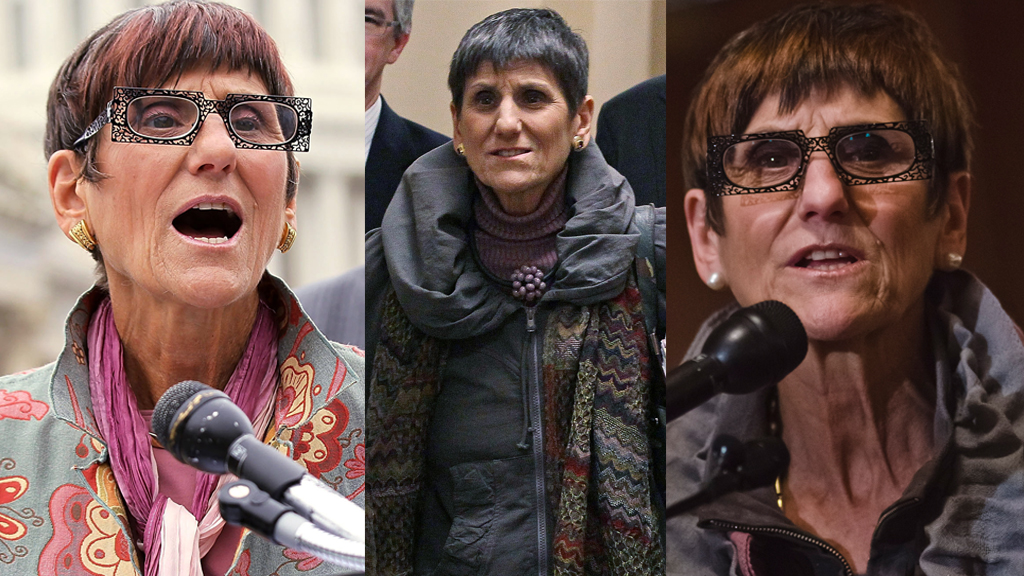 7) If the suit fits…
One thing I learned from the last election and vice-presidential candidate Rep. Paul Ryan, is if the suit fits, wear it. If it doesn't, then don't. Ryan, known for his athletic build and the many hours he spends at the gym, was criticized for wearing suits that are too big, compared to Governor Mitt Romney, whose suits were perfectly tailored. It's all about tailoring here in Washington, D.C. and walking around the city, you will never stand short of finding one. Take some ill-fitting pants, blazers and dresses to a DC tailor and you can end up with a new wardrobe for a tiny fraction of the price it would have cost to buy a new wardrobe.
8) Invest in an iron
Even the most sophisticated top can look frumpy if it's wrinkled and considering the high costs of dry cleaning, it might be best to invest in an iron. Speaker of the House John Boehner, one of DC's sharpest dressers, irons his own shirts. Last April, in our State of the Union Getting to Know series exclusive with him, he told Candy how he keeps up his look: "It's just me. I try to keep it simple, and I try to keep it neat and clean. I take great pride in the fact that I wash and iron my own shirts. The cleaners just ruin them, and about 15 years ago I got tired of broken buttons and white shirts that were grayish. And so I can tell you how to wash shirts well, and I can talk to you about the best iron in the world… I want it done right. It's a pain, but when I put my shirt on, I know it's done right."
9) Wear sunglasses year-round and when you can, wear them inside
Nothing intimidates people more than not being able to detect your expression and nothing hides said expression like a pair of glamorous sunglasses that add an air of mystery and star quality to your demeanor. And what's even more effective than wearing sunglasses? Wearing them inside, or as the song goes, wearing them at night. And no one has utilized the power of the sunglasses than the former Secretary of State, who sparked a wave of worldwide memes from simply texting while wearing her sunglasses inside. Even Senator Rand Paul, R-Texas, knows the value of a good pair of sunglasses and can be spotted wearing them while on a coffee break on the steps of the Senate building or out in the sun on the Capitol Hill lawn.
10) Wear your heart on your sleeve
Rep. Alan Grayson, D-Florida, wears his beliefs on his sleeve, or his tie to be exact. He is known for his funky ties, especially the brightly colored peace sign tie that he wore while arguing against a war in Syria. For women, a creative outlet is jewelry. I collect earrings and necklaces from every country I visit and they are always my go-to when trying to freshen up a business look.
11) Incorporate your culture into your clothes
Incorporating elements of one's culture is not new on the Hill and is a way to express yourself and connect with your constituents. Congressman Peter King, R-New York, is proud of his Irish heritage and expresses it in his wardrobe by wearing a green tie, green pin and a shamrock, which is the Irish word for "little clover," on his lapel to celebrate St. Patrick's Day. Former Montana Governor Brian Schweitzer (D) is known for his diverse collection of bolo ties, which are popular in western states, reflecting their Native American roots. Congresswoman Tulsi Gabbard, D-Hawaii, has worn a lei to celebrate her Hawaiian heritage, while Senator John Cornyn, R-Texas, is known for putting a western spin on the suit and tie with his custom made cowboy boots.
Your footwear choice can also tell your story. In 2006, the Virginia Senatorial race between Democrat Jim Webb, a former Vietnam veteran, and Republican George Allen produced a famous photo of the two sitting side by side, with distinctly different boot choices. Allen wore cowboy boots to express his southern roots, while Webb, whose son was deployed to Iraq with the Marines, wore his son's old combat boots. The choices also illustrated their political differences, as Allen supported the Iraq war, while Webb was against the invasion.
*all photos are Getty Images unless otherwise indicated.
CNN's Ellen Van de Mark contributed to this post.