For people who work in the news business, Election Week is like the Super Bowl.
For most of us in Washington, DC, politics is the reason we're here. And every four years, we start ticking down the clock to Election Day. We started covering this race about 18 months ago, and now here we are, just six days left, and we are no closer to knowing who might actually win this thing. The pollsters tell us one thing, the campaigns might tell us something different. We can read twenty news stories about Ohio and come away with twenty different reasons why one candidate or the other might win.

We like our odd predictors of the election. Historically, the tallest man running for the highest office in the land has a better chance of winning. In the past six presidential elections, only George W. Bush won despite being the shorter of the two candidates. Mitt Romney has a slight advantage here, being just an inch taller than the 6'1" President Obama.
Considering that we're also in the Halloween season, presidential masks have become an indicator of the soon-to-be victor. Here, the advantage goes to the incumbent, who's got a 60%-40% lead on the Republican challenger.
Oddly enough, 7-11 has recently gotten into this game of predictions, and has proven to be not only eerily accurate in predicting the winner, but also honing in closely to the actual voting percentage in the election. 7-11 stocks their coffee stations with cups emblazoned with one of the two candidates names, and base their results on sales.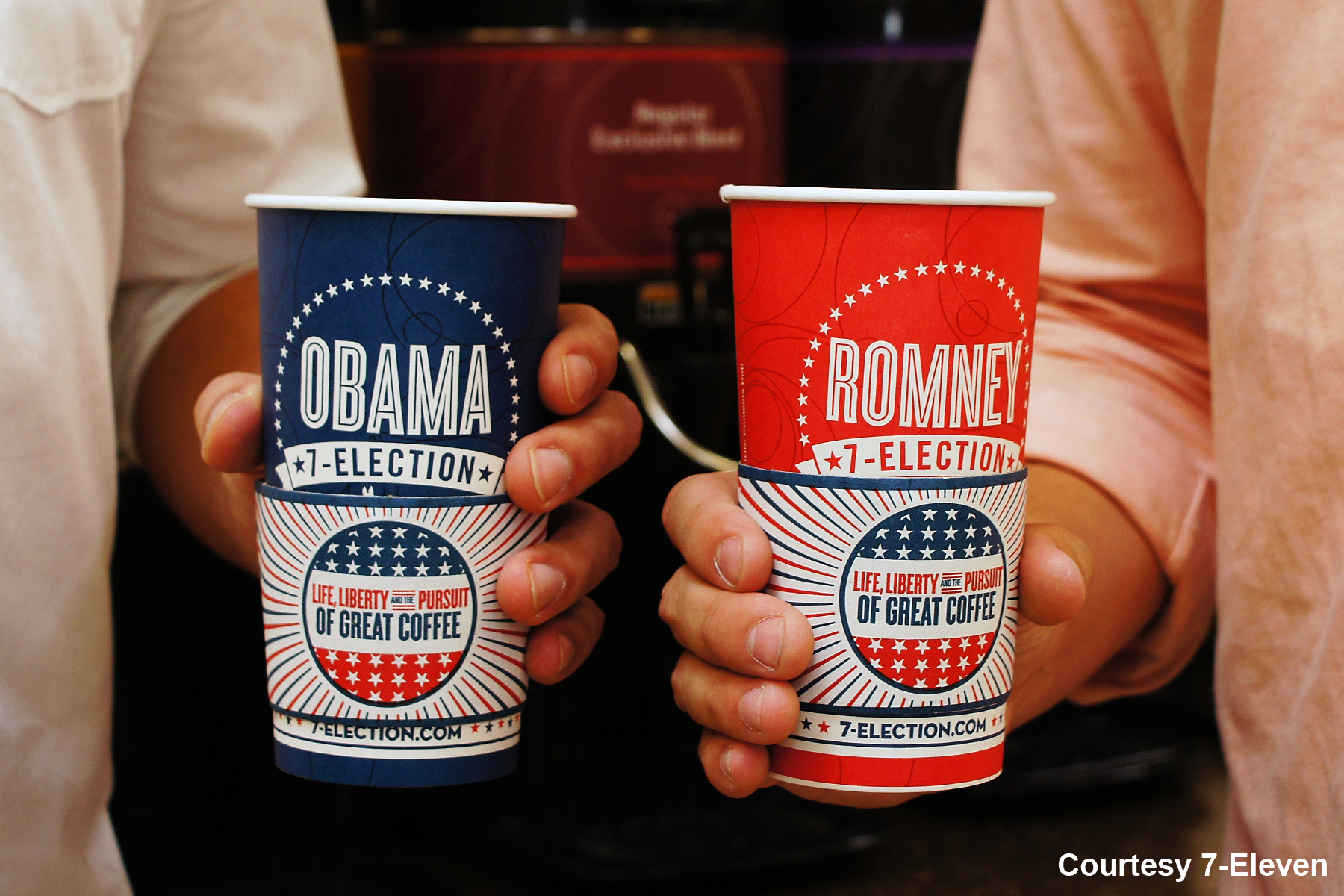 2000 Election 7-Election U.S. Voters
George W. Bush* 21%** 47.9%
Al Gore 20%** 48.4%
2004 Election 7-Election U.S. Voters
George W. Bush* 51% 50.7%
John Kerry 49% 48.3%
2008 Election 7-Election U.S. Voters
John McCain 46% 45.7%
Barack Obama* 52% 52.9%
The first year of the 7-11 election, 2000, coffee connoisseurs also had the option of a NEITHER cup. Seems voters made their preference known that year, too. Since then only the two major candidates have been represented with presidential cups.
As for all of us at SOTU, this year we came up with our own predictor. Chia Mitt vs. Chia Barack. We thought for a while that Chia Barack had this race in the bag, being that he sprouted a full week before Chia Mitt. But since then, Chia Mitt has made up for lost time and grown himself a pretty impressive mullet. Sadly, they're both suffering from male-pattern baldness, but Chia Barack, in the past week or so, has managed to gain a little on the top. A fitting parallel to the election? Maybe. A week from now we'll know for sure.